Supermarket: Growth rate over 9% just before the end of the ten months period
Growth rally for Hyper Markets is recorded by IRI
---
Thursday, November 19, 2020
---
Sales growth +9.1% was recorded for the organized trade, up to two weeks before October closes. This is according to the latest data published by the IRI, based on which supermarkets growth rate is 7.2%, in the week ended October 18th. It should be noted that the retail turnover had reached its peak in mid-March, when sales had increased by 95.7% compared to last year. Focusing to the last week recorded by the research company, week ended on October 18th, the supermarkets' turnover was 117.12 million euros. The growth of household category was above the average weekly growth (7.2%), as it reached 8.5%, while food and personal hygiene categories developed by 6% and 5.7%, respectively (Table 1).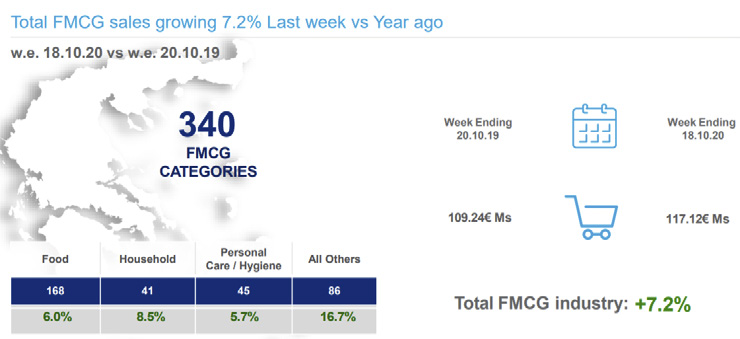 Double-digit growth for Peloponnese
It is noteworthy that the stores in all regions of the country developed positively. Peloponnese has the higher growth in organized trade, as it mentioned in Table 2 while Crete the lowest development. The supermarkets of Attica, which hold more than 50% of the total turnover, grew by 7% during this period, compared to the corresponding week of autumn 2019.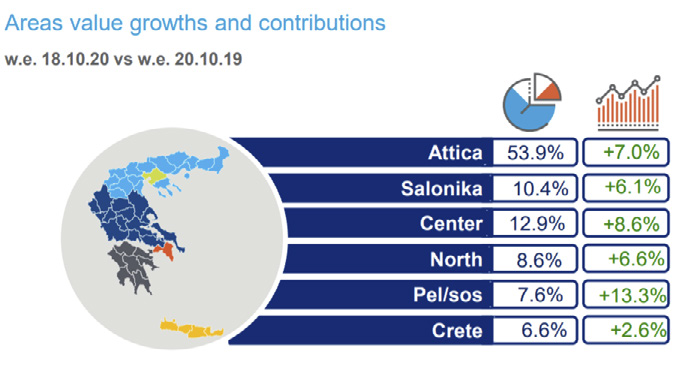 Growth is racing ahead for the Hypermarkets, stores with surface above 2.500sq.m., according to IRI. The growth is proportional to the surface of the supermarkets, as reflected in the figures shown in Table 3, while the smallest increase in sales is recorded for the convenience stores, less than 400 square meters.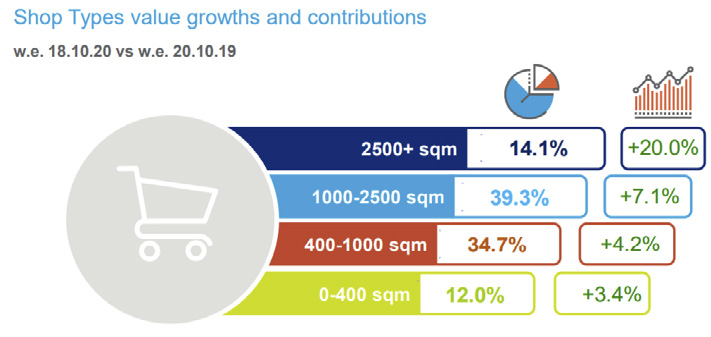 Source: FoodReporter Issue #0381/2-11-2020