Supermarket: Dynamic Growth in Five Years (2014 to 2018)
Total sales of companies increased by 52%.
---
Friday, January 31, 2020
---
In 2018, the largest companies in the industry, had total sales of €8.35 billion, recording a significant increase of 52% compared to the same companies' records in 2014. The companies concerned managed total sales of €35.16 billion in the five years (2014 to 2018).
RetailBusiness featured significant details, on the giant growth of large supermarket chains (Issue 612 - October 28, 2019).
Particular interest, is the scale of growth recorded by large supermarket chains over the last five years (2014 to 2018), according to Direction Business Reports, which collected and processed sales from the largest companies in the industry on behalf of RetailBusiness magazine.
The evidence shows that the nine biggest companies in the sector (excluding LIDL HELLAS & CO. OE, because it does not publish a balance sheet) for the period 2014 to 2018 had sales turnover €35.16 bn..  Rising 52% in 2018, €8.35 bn., compared with 5.49 bn. € in 2014.
Sklavenitis, thanks to its large series of acquisitions, including the integration of Marinopoulos's branch network, has managed to increase its turnover by 142.99%. The group's turnover of €1,239 billion in 2014, now exceeds €3 billion. Total sales (2014-2018) amounted to €10.39 bn..
AB Vassilopoulos has increased its turnover by 10.87% over the past five years, with a revenue of almost €10 billion.
Metro, thanks to its acquisition of Veropoulos, has increased its turnover (2018 vs 2014) by 70.74% and recorded total sales of €4.9 billion.
Masoutis has boosted its sales by 3.80% and for the five years (2014 to 2018) achieved total turnover of €3.83 billion.
Slight decline (-2.64%) compared to 2014 shows Galaxias with total revenues of €2.39 billion, while Market In has increased its turnover by 67.16% (2018 vs 2014) in this period of market changes, with total turnover €1.12 billion.
ANEDIK Kritikos, achieved an impressive growth of 141.54% (2018 vs 2014) and managed a total turnover of € 992.33 million.
Sales of SYNKA Kritis, increased by 22.38%  (2018 vs 2014) with total 5 years revenue(2014 to 2018) €808.71 million. Finally, Bazaar has experienced 40.04% growth in the last five years with total sales of € 737.84 million.
Of course, Lidl Hellas has also seen a significant increase during this period, however data cannot be accurately quantified as the company does not publish its financial statement.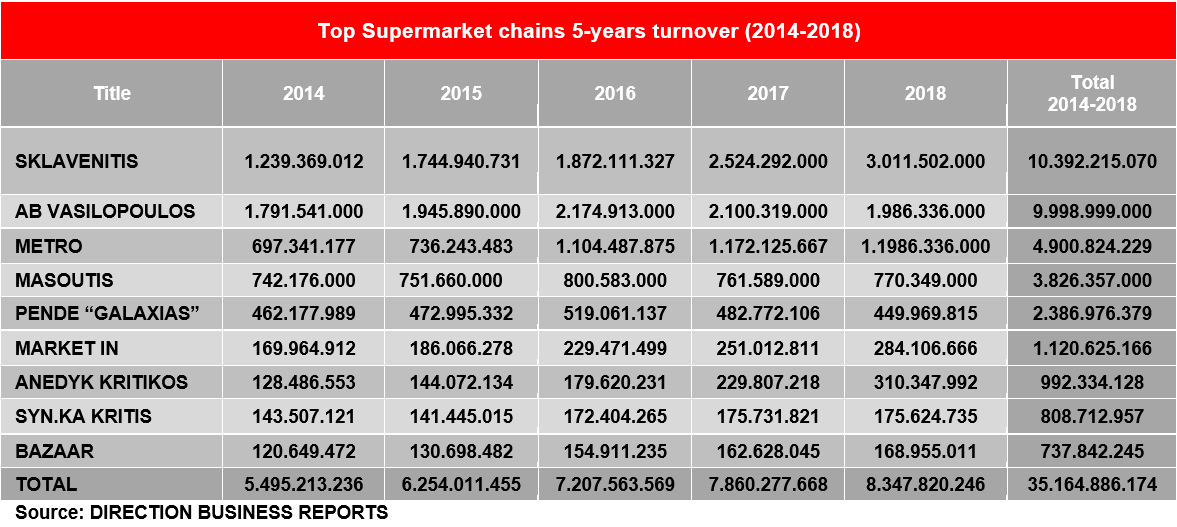 POWERFUL EMPLOYERS
Along with turnover, in large supermarket chains, the number of employees increased as well. The top 12 market players, who have published balance sheets for 2018 ( published up to 21/10/2019) employ 73,609 people, including the 5,500 employees of Lidl Hellas, which - should be noted - started in our country, 20 years ago years with 425 employees.
* Data has been presented in the journal RetailBusiness, Issue 612 (October 28, 2019).
source: BusinessNews